Gender Scan has reached its goals in 2021!
With 30,000 respondents from 117 countries, reports on teenagers, students and employees and tech around the world were produced.  University Women of Europe is partner in this endeavor.
Today we are glad to start sharing them with you online! This week there will be released two reports on STEM students around the world :
– One presents the results of the survey for students from developed countries: https://www.genderscan.org/Compter_Clic.php?id=Developed_countries_students_VF
– The other on the results of the survey for developing countries: https://www.genderscan.org/Compter_Clic.php?id=Developing_countries_students_VFO
You will find that while female STEM students are generally happy with their choice, motivated by their studies and satisfied with the opportunities they offer, they had to overcome significant obstacles. Indeed many were discouraged from entering STEM studies when they were younger. Nearly 50% of them were discouraged from choosing this path in developed countries, while in emerging countries this proportion reaches 65%! Thus convincing parents and teachers to encourage them could already help to change the situation….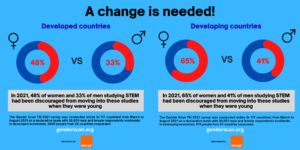 As you can see, other levers are identified in these reports. Feel free to use them as you wish – in scientific articles, social networks, internal communication… Always quoting Gender Scan @genderscan or referring to their website.
There will be launched another Gender Scan 2023 online survey.