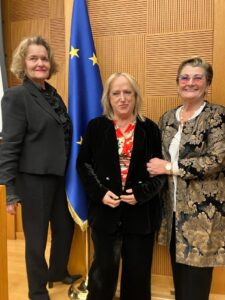 UWE President Anne Nègre is honored to receive the the prestigious International  Standout Woman Award for her commitment to the empowerment of European women.
She is recognized for playing a key role for the gender gap in programs promoted by the Council of Europe, the European Union,  the European Women's Lobby and other European governmental or non governmental organizations. Her vision of peace and emancipation through education has inspired many women and thanks to her passion and commitment, many significant results have been achieved.
The Award Ceremony took place on 29 November 2023 in the Parliament of Rome.