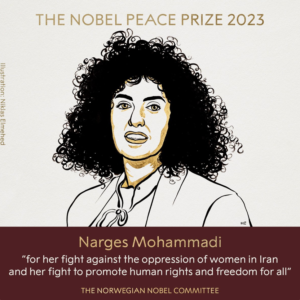 The Norwegian Nobel Committee has decided to award the 2023 Nobel Peace Prize  to jailed Iranian activist Narges Mohammadi for her fight against the oppression of women in Iran and her fight to promote human rights and freedom for all.
Mohammadi, 51, has been sentenced to more than 30 years in prison, and has been banned from seeing her husband and children. Her name has become synonymous with the battle for human rights in Iran, where nationwide protests broke out last year following the death of Masha Amini, a 22-year-old woman who had been taken into custody by the regime's notorious morality police.
She is the 19th woman of 103 laureates to win this Prize and the second Iranian woman, after human rights activist Shirin Ebadi won the award in 2003.  She is the most prominent of Iran's jailed women's rights advocates and has vowed to stay in the country and continue her activism. "I will never stop striving for the realisation of democracy, freedom and equality," she said. "Surely, this will make me more resilient, determined, hopeful and enthusiastic on this path, and it will accelerate my pace." Narges has campaigned for women's rights, the abolition of the death penalty and an improvement of prison conditions inside Iran.
In awarding the prize to Mohammadi, the Nobel Committee said it "recognizes the hundreds of thousands of people who in the preceding year have demonstrated against the theocratic regimes' policies of discrimination and oppression targeting women."
"Her brave struggle has come with tremendous personal costs. Altogether, the regime has arrested her 13 times, convicted her five times, and sentenced her to a total of 31 years in prison, and 154 lashes," Norwegian Nobel Committee chair Berit Reiss-Andersen said at the announcement ceremony.
It is not clear whether Mohammadi knows about her win.  Taghi Rahmani, Mohammadi's husband, told CNN that the prize is "for all the people of Iran." Rahmani, a fellow activist and former political prisoner who served a total of 14 years in regime jails, lives in exile in France with their twin children.
"This prize is not just for Narges; it is for all the people of Iran. A movement in which Iranian women and men took to the streets, stood for months, and fought to show that they will continue to struggle for democracy and civil equality," Rahmani said.
In a separate statement to CNN, Mohammadi's family said: "Although the years of her absence can never be compensated for us, the reality is that the honor of recognizing Narges' efforts for peace is a source of solace for our indescribable suffering.
It has been more than eight and a half years since she has seen her children, and she has not heard their voices for over a year. All of this signifies what she has endured on the path to realizing her aspirations. Therefore, for us, who know that the Nobel Peace Prize will aid her in achieving her goals, this day is a blessed day," the family statement added.
Source: