UWE Meet & Greet event formally started on 1st of July, after a short welcome reception & registration yesterday evening in Metz Ville – France. We could enjoy the presentation of Affdu Lorraine, words of welcome from Catherine Thuet, Nathalie Griesbeck and Anne Bergheim – Negre and their guest speaker and writer Pierre Brasme portraying 5 exceptional Lorraine women before having lunch in the exceptional gardens of Robert Schuman House – the father of European Union.  Translation was excellently done by the young students of Georges de la Tour. 
The conference was followed by a tour guide and lunch in the gardens of the Robert Schuman's house, the father of European Union, here at his desk was written the first version of his famous "Declaration of 9 May 1950".
In 1924 Robert Schuman purchased the estate in Scy-Chazelles, a Lorraine village on the slopes of Mont St.Quentin that forms the backdrop to the area of Metz. The Europe House, so called, was one of the first sites to be labelled "European Heritage" in March 2007. The buildings and the gardens are austere and yet simple integrating harmoniously into the landscape.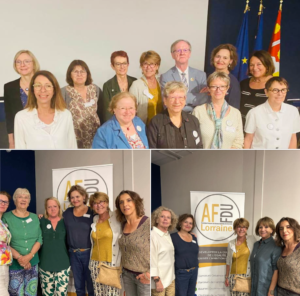 Thanks to these active women of Lorraine Group AFFDU we could enjoy Meet & Greet in person after Corona, a beautiful and good European moment attended by 43 UWE members from ten Europe countries. Next year we hope to be in Marbella, Spain. The invitation was launched by the Spanish Federation of University Women.
"Meet and Greet in Metz from June 30 to July 2, 2023 could have been a challenge, it was a success of European friendship, we were very numerous, but also of the team who organized everything magnificently. The reception at the Town Hall had to be canceled because at the request of the authorities all public meetings had to be canceled. All shops including restaurants also closed at 6 p.m. Catherine Thuet and the Messines found a solution and we were all fed in our hotels very early. conference and visit of the House of Robert Schuman but also of the city delighted us. All our congratulations and thanks to our French friends." Anne Bergheim-Negre, President University Women of Europe.